Why Gracey Holistic Health Is The Place To Go For Boston Acupuncture
Why Gracey Holistic Health Is The Place To Go For Boston Acupuncture
Robert Gracey Understands His Clients
Fully Licensed and Educated
Full Range of Treatments Including Non-Insertive Acupuncture Offered
Two Convenient Locations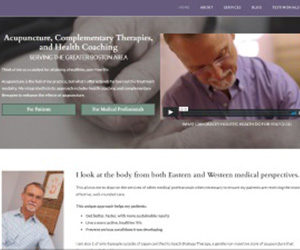 For over 15 years, Gracey Holistic Health has been a trusted acupuncture and holistic treatment clinic serving clients in the Boston area. There are several reasons why the practice stands out as a top choice for acupuncture:
Robert Gracey Understands His Clients
Robert Gracey isn't just an acupuncturist and holistic healer; he knows first-hand about the transformative power of acupuncture because he experienced it himself. His own personal journey to optimum health is one that many of his clients may relate to. Because of this, he treats each client as a person — not a patient — in a peaceful clinical setting.
Gracey's interest in eastern healing medicine was sparked when he began practicing meditation after college. He earned certification in Reiki, a Japanese form of healing energy, but it would take a combination of stress and physical pain to change the trajectory of his career. A lack of job fulfillment coupled with chronic back pain that hindered his passion for long distance running made him realize that something had to change.
Gracey became increasingly frustrated after traditional western medicine options did little to treat his pain. Just when he was contemplating surgery, a friend suggested acupuncture. Within weeks of beginning regular treatment sessions, his pain subsided while he experienced a heightened sense of calm and focus. He was also able to return to his love of running, and went on to complete four marathons.
His positive experience with acupuncture inspired him to forge a new career where he helps others live happier, pain-free lives. He studied forms of acupuncture and holistic treatments in both the U.S. and Japan before opening Gracey Holistic Health in 2003. He is more than happy to answer questions, address concerns, and work with each client on a one-on-one basis, creating an individualized treatment plan to help them feel their personal best.
Fully Licensed and Educated
Gracey earned his master's degree in acupuncture at the New England School of Acupuncture (NESA.) He completed a nine-month certification in Toyo Hari Meridian Therapy, a form of Japanese acupuncture, during his education there. He then studied non-insertive Shakuju Therapy (SJT) in the States and Japan. He is a founding member of the Shakuju Association of North America and has taught acupuncture at NESA. Gracey has also authored several acupuncture publications.
Full Range of Treatments Including Non-Insertive Acupuncture Offered
In addition to offering traditional acupuncture, Gracey is one of only eight practitioners outside of Japan to administer the non-insertive form of Japanese acupuncture called Shakuju Therapy (SJT.) SJT gives clients that may be nervous about needles another acupuncture option (although traditional acupuncture needles are hair-thin and most people don't feel them.)
But acupuncture is just the beginning; Gracey Holistic Health offers many complimentary therapies that enhance acupuncture such as bodywork, cupping, magnetic therapy, essential oils, herbal treatments, and more. Because he understands that nutrition, exercise, and emotional well being all contribute to good health, Gracey offers health and lifestyle coaching to help clients make better lifestyle choices to live a happier life.
Two Convenient Locations
Gracey Holistic Health operates two locations — Belmont and Brookline — that offer nearby parking and are accessible by public transportation. Begin your own journey towards health and emotional well being today. Schedule your appointment at 617-549-1196.
Gracey Holistic Health
(617) 549-1196
Boston, MA 02199
Further Reading
Just Some Of The Conditions I Help My Boston Patients With
Cost and Insurance
Top Benefits Of Trying Cupping Therapy In Boston
Why It's Important To Get the Best Acupuncture In Boston
Top Reasons To Try Acupuncture In Boston, MA
Why Gracey Holistic Health Is The Place To Go For Boston Acupuncture